David Morgan Is An Internationally Sought-After Speaker And Educator
Speaking, Lectures, Investment Seminars, Radio, Television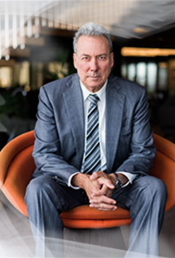 He is a dynamic, much-in-demand speaker all over the globe and is a widely recognized analyst in the precious metals industry and consults for hedge funds, high net worth investors, mining companies, depositories and bullion dealers.
Morgan is the publisher of The Morgan Report on precious metals, author of The Silver Manifesto, and a featured speaker at "honest money" investment conferences all over the world.
David Morgan considers himself a big-picture macro-economist whose main focus is to educate people about honest money and the benefits of a sound financial system.
As publisher of The Morgan Report, Morgan has appeared on Bloomberg, CNBC, Fox Business and BNN in Canada. Morgan has been interviewed by publications such as The Wall Street Journal, Futures Magazine, The Gold Report and numerous others. Additionally, David Morgan provides information by video, radio and interview, but seldom writes in the public domain. Some of his speaking and most of his public domain written work can be found at Silver-Investor.com.
Background: Seduced by silver at the tender age of 11, David Morgan started investing in the stock market while still a teenager. A precious metals aficionado armed with degrees in finance and economics as well as engineering, Morgan created the Silver-Investor.com website and originated The Morgan Report, a monthly newsletter that covers economic news, overall financial health of the global economy, currency problems ahead and reasons for investing in precious metals.
Although silver is Mr. Morgan's passion, The Morgan Report looks at a broad spectrum of investment opportunities outside of the precious metals arena. To learn more about The Morgan Report, Click Here.
The report looks at the silver and gold markets each month and also explores the commodity markets and the general stock market and is devoted to help you make money by investing in this exciting sector.
A number of the companies outlined in his model portfolio are higher than the original recommendation. Many of Morgan's early readers have gone on to start their own publications about silver. David Morgan is a great example of a person who has demonstrated through his teaching and practical business operations that Austrian business cycle analysis really works to enhance the clarity with which one makes better investment and life decisions.
Contact David About Speaking at Your Event